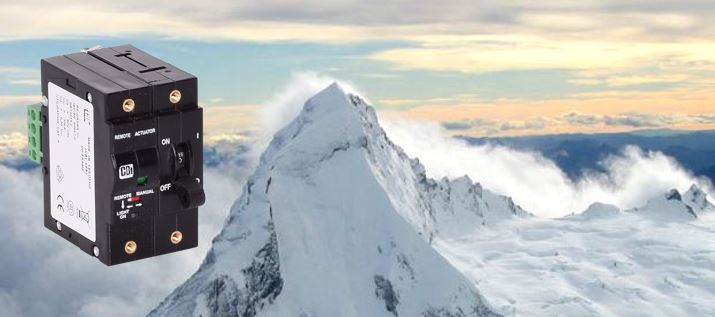 Remote control is the solution when your circuit breaker is hard to reach. Remotely operated circuit breakers, RAU, are still new to many people. Andreas Anselmius, MD at Emcomp, tells us a bit more about the solution.
"An example can be a telecom operator that operate a telecom site on a mountain in a remote place of the world. If something goes wrong there and the circuit breaker trips, the telecom network is down. Then someone needs to visit the site, maybe involving a helicopter ride, and see what the problem is and switch on the circuit breaker again. But what if there was just a simple overload? Then the remote operation saves a lot of time and money", says Andreas.


Andreas continues "There are also many times when you would like to switch on or off a system. Maybe to prioritize a load, such as keeping 112 etc open as long as possible. Often in today's world there are electronics involved which works like your computer or smart phone, it needs to be powered off or re-set in order to work properly. This can also be done with the RAU unit."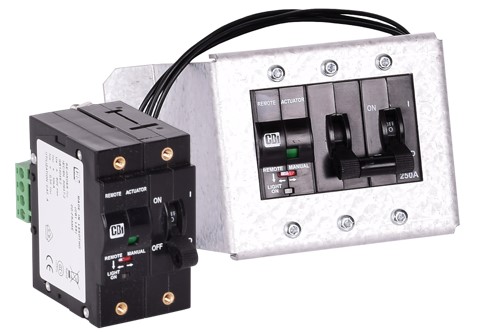 The main driver is a German company that work with energy storage, and the solution originated from a need that was growing due to all privately-owned houses with solar panels. The task was to find an easy solution that could be built into a system that everyone could have at home but be easy to maintain and monitor without sending out qualified service technicians.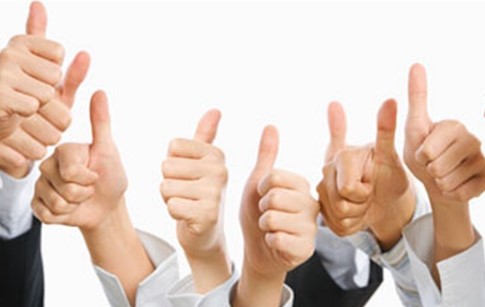 For switching on or off a system it is common to use a contactor. A contactor is a somewhat costly product, which also occupies valuable space and creates energy losses. With the RAU you get the switching function directly on the circuit breaker which is cheaper and more compact compared to a contactor. It also simplifies the system design. An additional benefit compared to a contactor is that you get the possibility to reset the circuit breaker after a fault which can save expensive travel and man hours.



Andreas says "The most common reason for a circuit breaker to be hard to reach is that it is built-in in an enclosure or machine, rather than being located far away. The RAU is perfect for mounting into small enclosures and can then be operated remotely."


"An example is an industrial dish washing machine where the circuit breaker is mounted inside. It is common that the circuit breaker trips from time to time. So instead of sending a technician to open up and re-set the machine, the RAU can be installed and the re-set button can be located on the front. This will reduce critical down time and minimize expensive service visits."

"We also have a customer working with road safety vehicles where you cannot access the circuit breaker while the vehicle is in use. That problem is solved with a 2-meter cable to a push button for the control signal. Just push the button to reset the circuit breaker and the work can be continued."

– a factory fitted module that enables remote operation of the CBI DD-frame circuit breaker. The unit can both switch on or off the circuit breaker and also re-set after a fault. The actuation is done internally on the circuit breaker mechanism.

– a factory fitted on the left hand side of the circuit breaker. One RAU module can switch up to 3 circuit breaker modules (paralleled as DC circuit breaker that means capacity up to 300A).

– suitable for DD-frame range with standard handle. The circuit breaker can be operated manually even if it is in remote mode.

– has two indicators on the front; The first is a LED that indicate status of the circuit breaker and the other is a flag that indicates manual or remote operation mode.

– has a switch that gives the operator the possibility to choose manual or remote operation mode.

– gives a signal indication if there is power on the load side of the circuit breaker.

– has a standard interface for connection. Phoenix part number 1780002 or equivalents.
CBI DD-frame can now be ordered with remote actuation possibility. Order your RAU DD-frame and you will have the building block to easily control on, off as well as re-set regardless where you are.

• High or low logic signal as actuator signal
• 15-80VDC operating voltage
• Low energy consumption
• Clear LED indication for status

The CBI DD-frame is a compact and reliable hydraulic-magnetic circuit breaker. Perfect for battery applications, power supplies and large DC distributions.

In applications such as energy storage and uninterruptable power for telecom it is a big advantage to be able to control the status and also remotely operate the circuit breaker. As well switching on and off as re-set after a fault.

Utilize the RAU function and you can both save money and reduce down time!