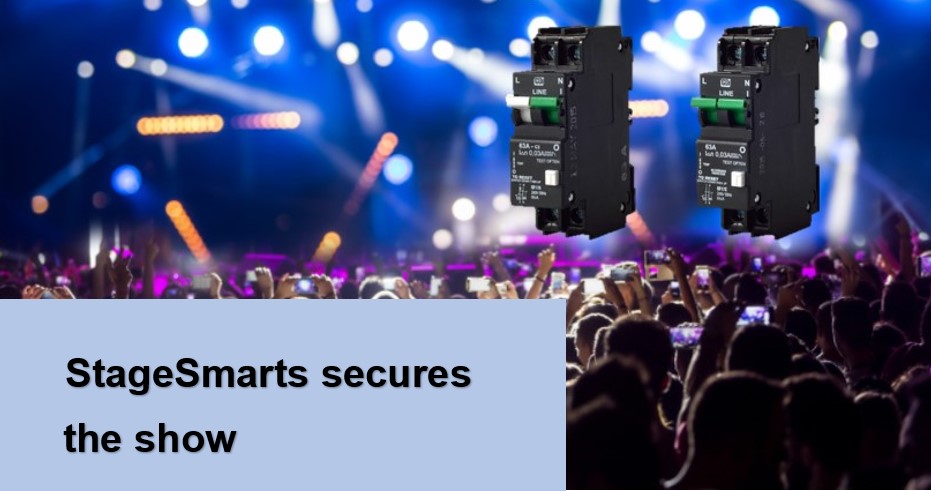 The telecom industry has always been an important pillar of the Emcomp business ever since the beginning but there are also other, new exciting areas for high quality circuit protection.

The swedish company Stagesmarts AB have in a few years established themselves as world leaders in the field of temporary power distribution.
Among their customers and end-users we find many artists and television networks. They've recently supplied a large number of systems that were used at the Olympic games in Tokyo and the upcoming World Expo in Dubai is also using their systems for all the performance stages.
Read the interview with Mats Karlsson, CEO of StageSmarts AB
Clearly there was room for improvements here. In the autumn 2015 I started StageSmarts AB together with Erik Davidson and we launched our first products at an exhibition in Frankfurt in April 2017. Already after the first day we knew that we had something the market was interested in. Orders started to come in and our first units were used on tours by Radiohead, The Killers and Depeche Mode that summer.

The reason for our success largely depends on our understanding of the customers and the applications, in large part from our own experiences and our dissatisfaction with the conventional solutions and technologies.
As mentioned, conventional power distribution protects the power lines from harmful overloads. Nothing else is required according to the safety standards, in other words the bar is set very low.

Our systems has several unique features and they are all about protecting both staff and connected technology from electrical faults in the best possible way. In addition we have our proprietary system for real-time load monitoring. An integrated webserver gives the user a clear picture of the whole system which results in faster troubleshooting, proactive maintenance work and the possibility to distribute the loads in a more efficient way.
Yes, there are some industrial systems that have the same capabilities but they are considerably more expensive and not as intuitive and easily managed as our solution.

We are one of the few companies which uses hydraulic-magnetic circuit breakers and that gives us a considerable advantage over our competitors which are using low cost, low performing consumer grade thermal-magnetic circuit breakers."
"When we started development in 2015 we had a clear target; everything should be of the highest standard and obviously the best circuit protection was the number one priorities. We looked at a many solutions but the QF17 series from CBI became the obvious choice. Not the cheapest solution but without doubt the most affordable one. Great value for money.

Ever since our initial contact with Emcomp we have received top quality support in all matters such as knowledge, service, deliveries and in general a proactive way of working which is very much in line with the way we ourselves are working. The product quality is close to 100%. We've had a few sporadic instances with non-performing breakers but we have caught these in our quality control. An added advantage is that the QF17 does not look quite like traditional circuit breakers and thereby giving our products an appearance that differentiates them from our competitors' products.

We have now delivered over 400 systems to customers in some 20+ countries across the world. Thousands of events each year are powered by our systems. Lately we have also started to develop installation solutions for theaters, movie- and television studios. During the beginning of 2021 we were busy with deliveries for several movie productions and television studios and sporting events such as the Tokyo Olympics and the European 2020 football championship."


"The world undergoing a rapid transition to web-connectivity of just about everything. Smart power distribution systems are the future, not only just for artists and events, it's without doubt. The world is becoming more and more dependent on electrical energy and operational safety as well as electrical safety are crucial when it comes to electricity. Our solutions not only make the power distribution more reliable but also more visible. Before too long, fully real-time monitored power distribution will be integrated with building management systems. With the knowledge of power consumption on a circuit level, you will have an excellent tool for monitoring and managing the energy consumption. The same information can also be used together with devices such as motion detectors and cameras to paint a picture of what is happening in each room of large building. There are almost endless possibilities for further development in power distribution."


For more information about how we can help your company with our products and customer unique solutions, contact us through email, telephone or online chat.

info@emcomp.se