The world has turned upside down several times since last time we met, but the K-show continues to be the most exciting event in the world for us, our customers, and the whole plastic industry.

At this year's event we are excited to show you a mix of new developments, updates and even a rebuild option for existing machines and as well giving you a glance at our future plans. In partnership with our customer Arke2000, we will convert garbage bags on roll from their 100% recycled LDPE. In addition, Pasaco will join us in the stand and together we will demonstrate their recycled gummed paper in our labelling units. You will find us in Hall 3 Stand E16
Starline for reliable, robust, and simple two lane production of Star-seal bags. Updated with our newest control system, internet connectivity and during 2023 it can be optionally equipped with rotary cutter for s-cut.
Power consumption
~0,98- 1,6kw/h at 50-100m/min.

Technical information
(web)
Starline Video
(YouTube)
Euroline, our top seller, a solid and reliable machine for trash bags on roll production. Based on technology that has been improved over 20 years. Next year it will be updated with an optional rotary cutter for t-shirt and s-cut production which can be retrofitted to existing 2.0 Euroline's on the market.
Power consumption
~1,23 - 2,05 kw/h at 50-100m/min
Technical information
(web)
Euroline 2.0 Video
(YouTube)
Our third line, "something old, something new, something mellow, something yellow"
A mix from our modular range of equipment.
New small compact unwinder.

Old refurbished bag machine from early 2000 demonstrating our new upgrade kit.
Our Service team will be present and ready to discuss retrofit kits suitable for updating your machines.

CT500 rotary cutter updated with electronic height adjustment and possibility to run with magnetic shaft and flexible dies.


SP 2.0 The next generation of our successful winder SP500/800.
Visit our stand, take a picture of a FAS Converting machine or with a FAS employee.

Post the picture on Linkedin and tag @FAS Converting Machinery and #K22

FAS

Converting

will arrange the lottery and contact the winners on October 31st.


The winners will be announced in the following newsletter.
A word from our CEO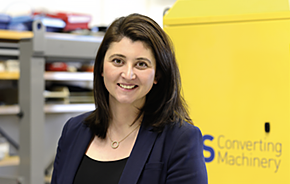 I am happy to start my journey as the CEO for FAS Converting during a K-year where I will get the chance to meet so many customers, partners and industry colleagues during one single event.
We are very excited to show our newly developed winder, SP2.0, which will continue to meet our evolving customer demands.
The SP 2.0 is a continuation in the long line
of our quality winders, which we have been building since 1978. I am also proud that we will be showing a sustainable business offering for pro-longing the life of existing machines already on the market.

Moreover, FAS Converting has gone through a generation change and we now have the youngest average age in the company's modern history with a good balance of new fresh ideas and experienced people with deep know-how.

We enter K-show and the upcoming 2023 with a strong team and solid base building up our new vision with one thing in mind, investing in long-term relationship with our customers.
Hope to see you in Hall 3 stand E16.
Sincerely, Aldijana Mehanovic
If you have any questions or would like to schedule an appointment, please reach out to me below.






Joakim Sjödin


Sales Manager
Phone +46 720 908 930
E-mail