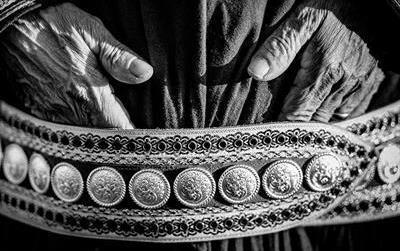 For countries with indigenous populations, there is a need to work closely together on research into dementia and indigenous peoples and health and social care services. And the Nordic sub-network Indigenous Peoples and Dementia plays an important role in this work. The sub-network is part of the Nordic Dementia Network, which is coordinated by the Nordic Welfare Centre. The network was established in 2019 and brings together representatives from Norway, Sweden, Finland, and Greenland.

Research shows that overall knowledge of the experiences of Sámi and Inuit with dementia is very limited and needs to be increased to develop health and social care services where language and cultural backgrounds are utilised.

After the Covid-19-pandemic, the sub-network was finally able to meet in Helsinki in June to plan for the 2022-2023 period. The network will work specifically to map and highlight the need to adapt and validate tools for investigating dementia in people with indigenous backgrounds. Another focus area is to develop, collect, and present information and educational resources online, which can promote language- and culture-adapted care services for indigenous people with dementia.

Read more about the sub-network Indigenous Peoples and Dementia
Swedish-Norwegian cooperation on language and culture adapted care

In Sweden, the Sámi resource Centre for Sámi carein North Botnia County is in Jokkmokk Municipality. The centers aim is to establish a knowledge platform and to coordinate resources that support language and culture adapted healthcare to the Sámi people in the county. One out of many tasks, is to cooperate with international counterparts. North Botnia County Council has just recently reached an agreement on mental health and substance abuse treatment with the Sámi Clinic at Finnmark Hospital in Karasjok, in northern Norway.
The first round of data collection in the research project Health and Living Conditions in Sápmi – Sweden (HALDI) was completed in spring 2022. The project involves mapping the health and living conditions in a multi-ethnic population in Swedish Sápmi where special focus is on the Sámi population. A report has been published on the results from the initial focus group interviews: Focus on health and health research in Sápmi: results from eleven Sámi focus groups (2021).
The University of Tromsø (UiT) has announced a new course in Sámi nursing starting January 2023. This programme provides basic training as a regular nurse equivalent to all nursing studies in Norway, but the student gains additional knowledge about Sámi social conditions and Sámi culture, so that the graduate nurse can meet Sámi patients in the best possible way.

"We need nurses who understand us."
The network Indigenous Peoples and Dementia met in Helsinki in June this year.

From left: Merja Pieski, Finland, Pia Nevala Westman, Nordic Welfare Centre, Krista Pajala, Finland, Risten Utsi, Sweden, Katarina Nägga, Sweden, Kirsti Hotvedt, Norway and in front Laila Daerga, Sweden.
Follow us in social media