Date: 2020-04-29
News in short
We support Folding@home COVID19 study with compute power
RISE Research Institutes of Sweden joins the Swedish Data Center Industry Association
ICE by RISE: A playground for data centre research
Novel data centre enters the spotlight thanks to its energy- and cost-saving concept
German magazine Datacenter Insider wrote about our AUTODC project
Our EU H2020 project on digital innovation hubs for big data was granted
We are still active on our blog,
on twitter @SICS_ICE ,
on Instagram and with a Linkedin group
Follow us!
During these difficult times we support Folding@home COVID19 protein study with compute power. Folding@Home is now running on 5 GPU servers with a total of 40 GPUs in our GPU cluster.

Here you can check our stats.
By downloading Folding@home and help run simulations for protein structures is the way we contribute. These calculations are enormous and every little bit helps! Each simulation you run is like buying a lottery ticket. The more tickets we buy, the better our chances of hitting the jackpot.

Every contributor can download a certificate for the contribution. The one shown here is from the first days of our contribution.


Read more about Folding@Home and COVID 19 here.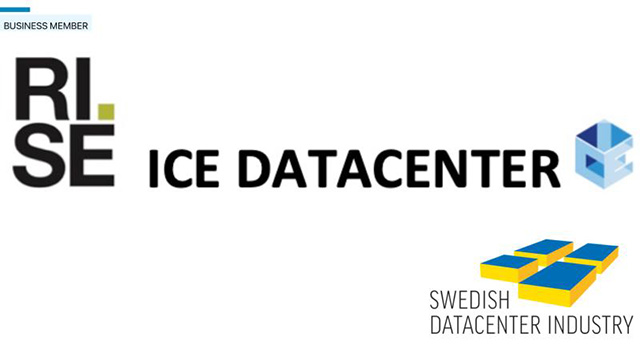 ICE Datacenter at RISE is the leading datacenter research facility in Europe. "It is great that RISE contribute to Sweden being at the absolute forefront regarding competence in sustainable and efficient datacenter solutions, cloud applications and data analysis. They accomplish by increasing innovation capability, helping product and service companies excel, as well as attracting more researchers and companies to Sweden to make the business branch even stronger nationally" Gustav Bergquist, chairman of the Swedish Data Center Industry Association.

"Testing in a flexible full-scale datacenter – without having to invest. With access to massive amounts of research data. Add a stand-by team of world-leading scientists at your disposal, contributing to your innovation. That is RISE ICE Datacenter." Tor Björn Minde, Lab director at RISE ICE Datacenter.


Read more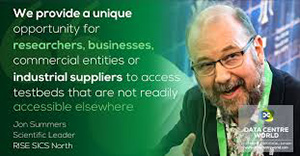 Jon Summers in Techerati article
Jon Summers of ICE Datacenter describes the exciting potential of a data centre where researchers can let their imaginations run wild in an article in Techerati.

In the far north of Sweden, scientists have built a facility to explore the future of data centres. "We have projects that are looking at innovative control of data centres…projects that would support zero touch data centres…we have started some projects that develop real life demonstrations of the reuse of heat for district heating." Jon Summers, Scientific Lead at the ICE data centre lab at RISE, the Swedish research programme behind the facility, tells us about some of the innovative work being carried out there.


Read the story in Techerati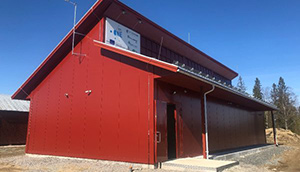 Boden Type Data Center
The EU-funded prototype ICT service facility built in the BTDC project in Sweden was honoured for efforts to lower its environmental impact.

CORDIS, the EU commission website for research results wrote about the project and results.
A recent news release on the project website explains: "Right now our DC is operating with an instantaneous PUE of 1.007 in the North of Sweden. The DC was built with the lowest of low CAPEX and has been literally operating on 'thin air'. Now the consortium is aiming high: to attract the industry players' attention and to develop best practices and influence regulations where necessary."
Read more
Companies from Finland, Sweden and Canada initiate AutoDC Testing, research, trying out for the autonomous data center. As far as possible, autonomous data centers should be able to continue operating without human intervention and regardless of context-related faults such as intermittent power failure or overheating and to a certain extent "self-healing".

The "AutoDC" project, supported by a consortium, was founded in 2019 to create an innovative design framework for autonomous data centers. The consortium consists of Swedish and Finnish partners and Canada, with Ericsson, ABB, Granlund and Swegon being the main industry partners. Several relevant SMEs bring practical experience with research organizations and universities to the knowledge in various research areas to bring vision from autonomous data centers.
Article in German
European Commission granted the EUHubs4Data project with a number of partners from the BDVA I-Spaces group of DIHs. The total budget is 12,5 M€

In order to fully exploit the benefits that the different DIHs are bringing to the industry, one step beyond in the collaboration among those initiatives and towards a network of Big Data DIHs is necessary. In the report "Digital Innovation Hubs: Mainstreaming Digital Innovation across All Sectors", the creation of a Europe-wide network of DIHs supporting any business at a "working distance" is seen as an ambitious but achievable objective. In this way, the EC is investing EUR 500 Million in the Horizon 2020 programme in initiatives for:


Networking and collaboration of digital competence centres and cluster partnerships
Supporting cross-border collaboration of innovative experimentation activities
Sharing of best practices and developing a catalogue of competences
Wide use of public procurement of innovations to improve efficiency and quality of public sector
EUHubs4Data project will contribute to this objective by linking and establishing collaboration among existing I-Spaces DIH initiatives in the domain of Big Data.