Our rebuilt quay at Sörvik gets the green light, a project towards a sustainable future and much more in our latest newsletter.
The project of strengthening and improving our quay at Sörvik Terminal is almost completed. There is still some additional asphalting work and an impregnation that needs to be done. The impregnation will make the concrete layer more durable, as it will protect it against wear and tear. However, the impregnation requires both dry and warm weather for a good result, something that is almost impossible in Sweden this time of year. It will therefore need wait until spring.

The quay has during this renovation been strengthened with 1400 tons of concrete and reinforcement. This creates the great conditions for the quay to withstand the loads from our new cranes and machinery, for many years to come. Skanska Sverige AB's department Väg Anläggning Väst and their subcontractors have, in addition to performing good quality work, shown evidence of great knowledge and ability to cooperate with our business during this renovation.
Final inspection of the quay took place in early December. As the result was approved, we have now been given the green light to start using it. Our quay at Sörvik Terminal is now secured, for many years to come!
In the beginning of October we were paid a visit by three Chalmers students; Vahid Sadeghi, Rithvik Dandu and Carlos Florez. They are all students at the Chalmers Masters programme - Maritime Management. As a part of their programme they will implement a project with the theme - Towards Sustainable Shipping. This year the course is closley connected with Agenda 2030 and the 17 global goals, set by the UN.

We are pleased to announce that these three students has chosen Uddevalla Hamnterminal, as their company to work with during this project.The scope of their project will be - Assessment of Sustainable Development Goals for the Port of Uddevalla, with regards to relocation of the port to a new designated location. This assessment can be used as the base for further research studies about developing strategies and give us suggestions to help us reach the SDG goals. The report will be presented to us later in December.

The Global Goals and the 2030 Agenda for Sustainable Development seek to end poverty and hunger, realise the human rights of all, achieve gender equality and the empowerment of all women and girls, and ensure the lasting protection of the planet and its natural resources. The Global Goals are integrated and indivisible, and balance the three dimensions of sustainable development: the economic, social and environmental. More information can be found at the UN web site

It is our highest priority that our staff stays healthy and the cargo we handle in the port can move in and out of our country undisturbed. We strictly follow all restrictions due to Covid-19 to keep our staff healthy, and the Port remain open as usual. To reduce the risk of spreading infection we have taken measures for both our staff and for the premises we are working in.
Our office is closed to external visitors and our staff avoid physical meetings, with both external and internal staff.

The breakfast and lunch restaurant located in our premises, Stuveribaren, is closed for the public. However, it is still possible to buy both breakfast and lunch as takeaway from the back of the building.

We have weekly reconciliations with staff from different departments. This gives us a good overview of the current situation and gives us the possibility to take quick action, if necessary.

To prevent entire departments of the company from becoming infected, some of our staff work from home.

We have taken measures to ensure that our staff are able to keep their distance in our various common staff rooms.

As before, all vessels must submit a Health Declaration 24 hours before arrival at Port of Uddevalla. In the event of any illness onboard a vessel, a plan is set up in order to make the call carried out in a safe manner. This in collaboration with Smittskydd Göteborg.

If needed, we also have a contingency plan. It will make it able to divide the Port's personnel into two work teams, which can work in shifts.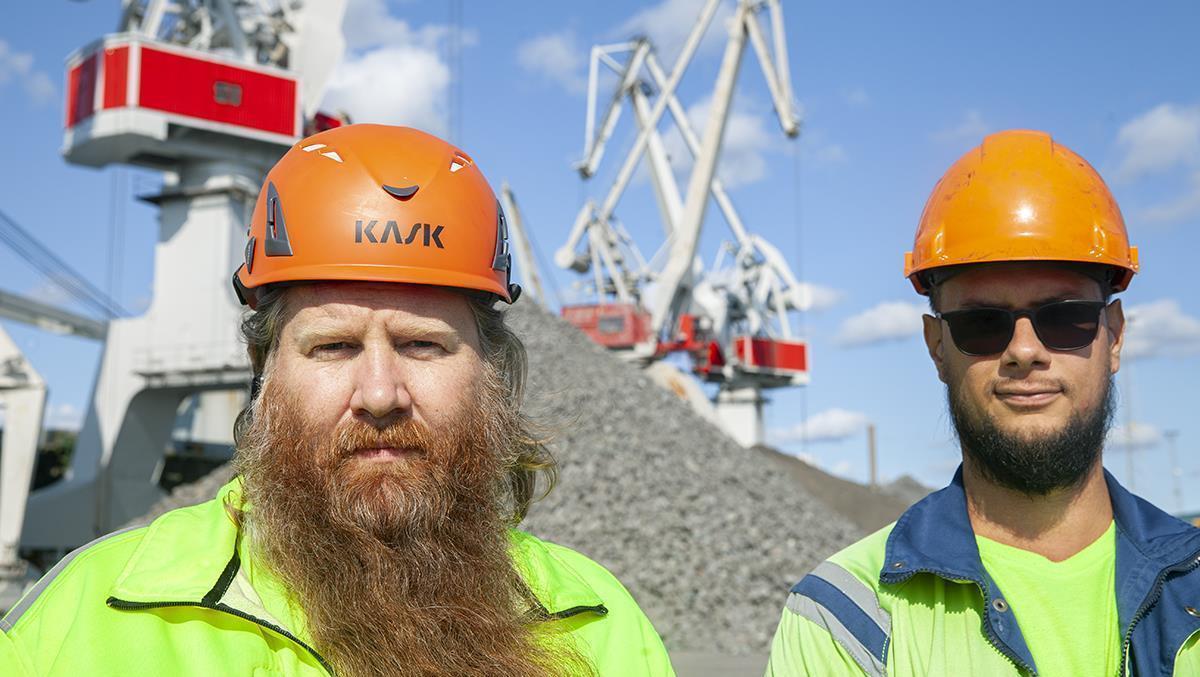 The union Transport has written an article about Port of Uddevalla in the October issue of their member magazine Transportarbetaren. In the article Mikael, Thomas and Ulf talks about what they do here and why.

"Flexibility is the Port's strength. And that also applies to the work - one week you are a crane driver, the next week on board a vessel to unload. Or you might drive a containertruck. The always changing work is what makes many people choose to stay, and not infrequently the profession has been inherited for generations.

- I will probably stay here until I die, haha. I like the flexibility, says "Micke", who is a third generation stevedore. "

Photo: Transportarbetaren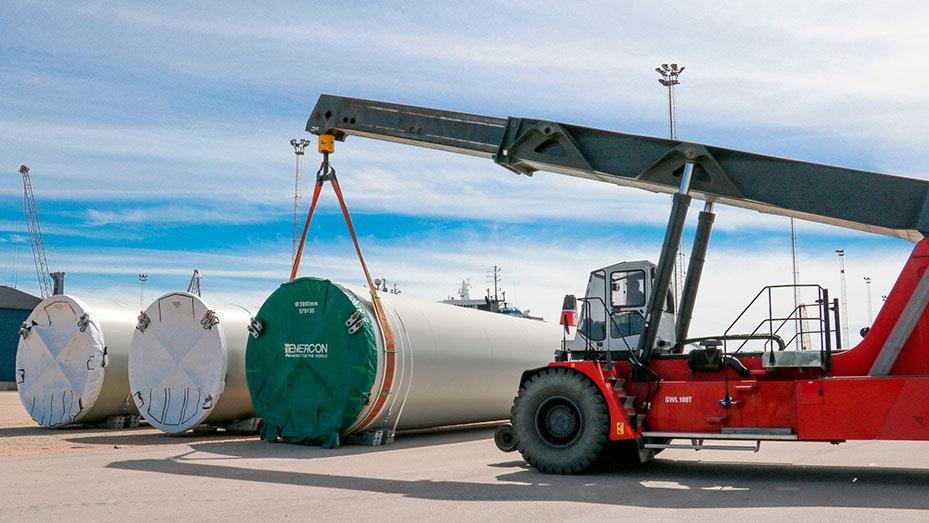 Port of Uddevalla is one of Sweden's hubs for heavy project goods and there was a great need for additional lifting power, which also needed to be flexible.

Port of Uddevalla recently recieved a powerful addition to the machine park, Sweden's largest reachstacker, delivered by NC Nielsen A/S. This capacity is well needed, as very heavy project goods are handled here in the form of, among other things, wind turbines.

"-The wind turbines are only getting bigger and bigger and we needed a machine that was both powerful and at the same time flexible, says Robert Rydén, Manager-Operation & Traffic at Port of Uddevalla. "

With the new addition to our Port - even the heavy lifting will be made easy.
Photo: NC Nielsen
As in previous years, we have chosen to replace Christmas gifts to our customers with a contribution to the Swedish Sea Rescue Society. They are a non-profit organization, which we hold close to our hearts. Swedish Sea Rescue Society are single handly responsible for 70 percent of all sea rescues in Sweden. With no governmental funding, ours and others support is needed to help them save lives at sea.
| | |
| --- | --- |
| | |
In the wake of the pandemic, this year turned out to be the year where nothing went as planned. However, it was also the year when we got to use our vision; We will be Sweden's most flexible port, in practice. The vision has guided us in our daily work and made us focus on the right things in an uncertain time. I want all our employees, customers and owners to feel safe with us and with the measures and activities that we have implemented, to adapt to the current situation. They measures have proven to been successful and during the past year, we have ensured the flow of goods through the port. Our main goal is always to make sure that the vessels calling at Uddevalla gets loaded or disharged as planned, without ever compromising with the safety of our employees. Many thanks to all your employees and customers for trusting us with this, your trust is important to us!

There have, of course, been large fluctuations in the flows of cargo during the year and most of it have understandably decreased. However, the market that affects us, has in many respects already turned around and freight volumes are now cautiously pointing upwards again. Our assessment for the coming year is off course uncertain but still relatively stable. Which, given the situation, is something we must be satisfied with.

We have learned a lot during the year, especially in the digital area. These are lessons that we will bring with us in the future. Communication has been one of the most important tools and I have noticed that the need has increased significantly during the pandemic. Our contact with customers, authorities, employees and residents in Uddevalla has been closer than before, despite the fact that we have not been able to meet as usual. Even though 2020 may not have turned out as we had planned or hoped, I can not say that everything has been bad.

Christmas is now around the corner, our most heartfelt and familiar time. My wish is that the world will have a chance to slow down, just a little bit, at least over the holidays. So that we can all celebrate with security and warmth, not in the same way, but still just as usual.

Best wishes for a Merry Christmas and a Happy New Year!

Ulf Stenberg, CEO