Our largest loading of alloy ever, connection of M/V Saga to shore power, new employees hired and new forklifts delivered. Read about this and much more in our latest newsletter.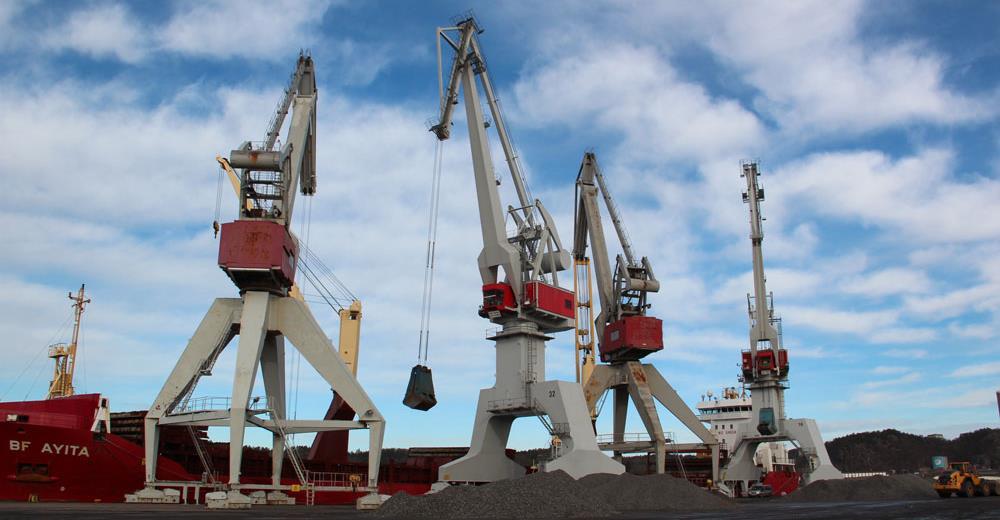 To prepare for the loading of the vessel M/V BF Ayita, receiving and unloading trucks with alloy was begun in mid-February. As much as 9000 tons of alloy was to be loaded, making this the largest alloy shipment from Uddevalla ever. The loading on board the M/V BF Ayita took place during perfect weather conditions at the end of February.The alloy is sensitive to rain and moist but with bright sun and blue skies, the loading was completed in just one day. The alloy was then shipped with M/V BF Ayita from us to the USA. Agents for the vessel was Carl Lundvall.

Vargön Alloys AB, which is part of the Yildirim Group of Companies, is one of Europe's largest manufacturers of ferrochrome. It is the alloy that gives steel its hardness and corrosion resistance. Ferro alloys is essential raw materials for the steel industry.
Johan Eriksson joined us at Port of Uddevalla as Technical Manager in 2005. Over the past 16 years he has contributed to keep our port up to date, for both for the present and for the future. Now time has come for him to retire. But before he begins the next chapter in life, he finished a project at Sörvik. The very same place where his career began.

Throughout his entire working life, even long before Johan started working with us, Sörvik has been a companion of his. From NCC to Uddevalla Municipality, to the first project with us and all the
to the very last. Rebuilding Sörviks quay, from shipyard to a quay fit for port operations, was the first project for Johan as Technical Manager with us. A lot has happened in the port since then and perhaps especially at Sörvik. Sörvik has actually changed almost completely during the 16 years that Johan has worked with us. From consisting of mostly "forest and rubbish", to becoming our main focus and in many ways the port´s lifeline. Among other things you will find plenty of warehouses filled with paper, pulp and bigbags and also large storage areas full of wind turbine parts here.

It turned out the last major project for Johan happened to be to rebuild the quay at Sörvik once again. This time the rebuild was made to make sure that the quay will cope with the load of our new and heavy machinery and port cranes, for a long time to come. Johan was responsible for projecting, project manager, customer representative, quality and environmental manager and also control manager. It is this versatile role that he has had in most of our projects;

- It has been so much fun for me to always be involved in so many different things here. In other industries, you usually have your specific role and often must not exceed that limit. I always have had a wide work area here and I have discovered that it is something that suits me well. In previous roles, I have always had the precise knowledge on how to do everything. It has been more of a challenge to get to know all the different parts here. My curiosity has helped me and has been both a good ability and a driving force, for me to find new ways to develop and understand the whole. I have always enjoyed coming here and the days have always felt short. Johan says.


Now it´s time for Johan and his boat Johanne to set sail from Port of Uddevalla and into the archipelago with its natural harbors at full time. He might show up in some context to help us with a well-chosen project in the future, if we are lucky. Until then we would like to say; A warm thank you from us at Port of Uddevalla for everything you have done for us and the port, we wish you a wonderful time as a pensioner!
As many of you have noted, the shipping company Stena has had their vessel Saga layed up in Uddevalla for a longer period of time, as a consequence of the prevailing pandemic. Receiving and setting up relatively large vessels, such as M/V Saga, is many times associated with both complex technical and electrical challenges. It soon turned out that some extra efforts were required to connect her to shore power. However, the work has now begun to connect her to high voltage. During the first week of April all preparations will be done and M/V Saga will be connected to the newly manufactured switchgear. As long as the market is quiet and M/V Saga will remain at quay on Sörvik, the shore connection will contribute to an increased safe existence for both the vessel and the environment.

A number of local suppliers have been involved in the work with the connection of M/V Saga. Uddevalla Energi Elnät AB is responsible for the installation of the mains connection and Actemium Electro AB has delivered the switchgear and safety equipment in connection with the connection among others. The picture below shows a similar solution for land connection made by Actemium on a previous occasion.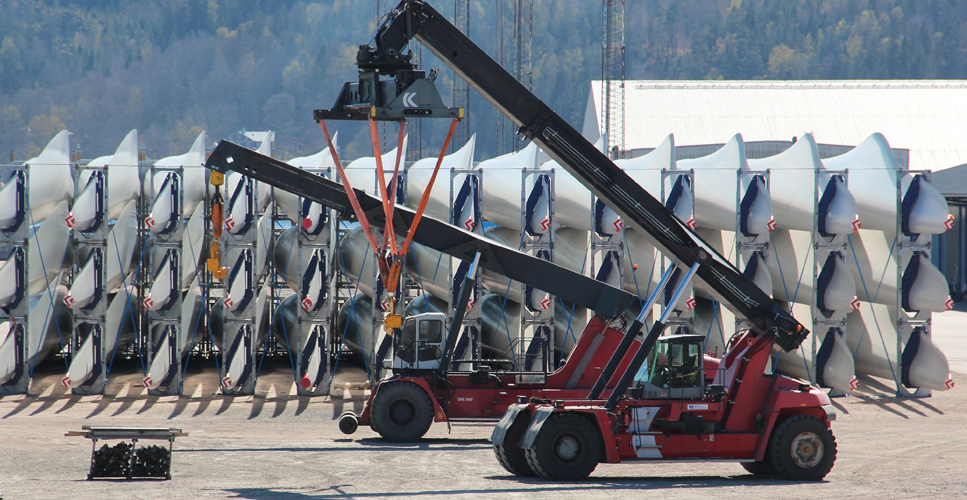 This year's Wind Power Season has been in full swing at Uddevalla for a while now. Since we nowadays handle wind power all year around, we may not even be able to talk about it as a season anymore. We completed the first project of four wind turbines for one of our customers in mid-February and at the end of February we received the first vessel call this year for another customer.

We are very proud to consistently have a very high level of customer satisfaction in our management of wind turbines. All of you who are in some way involved, contributes to us achieving our goals, of always having well-executed assignments. From now and until the third quarter we have around another 60 complete wind turbines to look forward to.
We started receiving trucks with firewood for Stora Enso Bioenergi AB in February. The wood is delivered from Stora Enso Skog AB and Sydved AB's operations in western Sweden.




Approximately 7000 m³ of logs will stored at Sörvik until the loading vessel arrives. The loading will take place approximately in mid-April. The firewood will be shipped by sea from us to Kemi in Finland, where it will be chipped and made into energy.
We would like to welcome three new employees; Johan Johansson, Sandra Jalkelid and Fadi Alhawatt who as of April 1 is permanently employed by us as stevedoring workers. All three of them have been fixed-term employees with us before and are experienced stevedores and machine operators. Thus, they are also well acquainted with Port of Uddevalla's areas, customers and the daily work with us.
In mid-March two new 3.5-ton electric forklifts of model Linde E35 were delivered to us. They will complement our existing fleet of forklifts stationed at Sörvik, which are used onboard vessels when handling of bigbags.

Another two forklifts from Linde arrived shortly after, this time two 6-ton electric forklifts, model Linde E60. These all-electric forklifts will mainly be used when handling paper in our warehouses and replaces the previously used diesel driven forklifts. In addition to a reduced environmental impact, the electric forklifts will improve the working environment for our staff working in the warehouses.
Our financial statements for 2020 are now summarized and the group reports a good result of 5.7 million before tax. This means that the result exceeds our budget of SEK 3.5 million. An increase in import of wind turbines over the port of Uddevalla during the current period, is one of the reasons for the good result.

The total freight volumes over our quays landed at 1012 thousand tons in 2020.
| | |
| --- | --- |
| | |
The days are starting to lighten and signs of spring are now visible. Even though at the time of writing this the weather does not give me any feelings of spring at all, as the snow is falling outside. Brighter times is however around the corner, we all have our own signs of it. For us who work in the Port of Uddevalla, signs can be when the first vessel loaded with wind power parts calls, when the fertilizers is ready to be delivered or when the summer salt arrives.

We have since last summed up the past year and despite the pandemic and the uncertainty it brought for us, we have gone through the period better than we expected. With a volume of just over 1 million tonnes and a profit after net financial of SEK 5.7 million, we are more than ready to take on 2021 and the future. We already knew that the result would be less than 2019. The reason is that our depreciation for investments has increased, completely according to our plan. To invest in order to keep existing volumes in a declining market is important, in order to remain current as a part of a future upswing.

Speaking of the future. The port area of Fröland, which now goes by the name Västra Hamnen, is beginning to take shape. We now have a number of companies who want to establish their business there. Several of these establishments are still a number of years ahead, which gives us plenty of time to go through all the planning needed to the best conditions. The plans for the development of Sörvik are also in progress. Areas for storage will be prepared and the infrastructure will be optimized to meet the future demands.

With spring and summer around the corner, I hope that not only winter, but also the pandemic will release its grip. So that we can continue to live our lives as we wish.

Jacob Engholm, Marketing Manager